Contact

Broschofsky Galleries, Ketchum, Idaho
208-726-4950
Stremmel Gallery, Reno, Nevada
775-786-0558
Visions West Gallery, Bozeman and Livingston, Montana, and Denver, Colorado
406-522-9946
Recent and Upcoming

Gordon McConnell is a recipient of the 2020 Montana Governor's Arts Award
PRESS RELEASE
"No one has done more for art in Montana – as an artist, curator, and all-around spark plug – than Gordon McConnell," writes Mark Stevens, who nominated him for the Governor's Arts Award.
Lively Times, January 20, 2021
Q&A with the artist: Gordon McConnell: Artist, Curator & Writer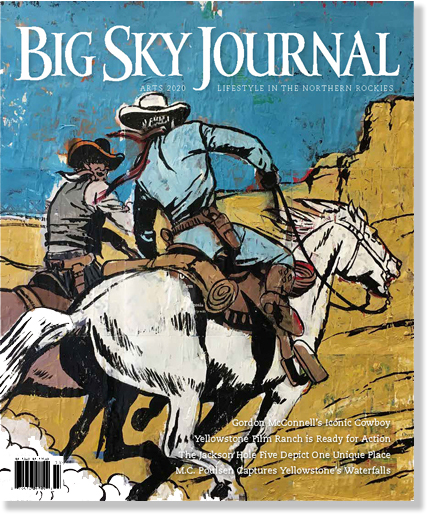 BIG SKY JOURNAL, Arts 2020, cover story: The Myth of the West: Artist Gordon McConnell draws inspiration from the iconic cowboy, by Melissa Mylchreest, pages 96–102. download pdf
Curate/Instigate: Gordon McConnell and Stephen Gleuckert, now on view by appointment at Kirk's Grocery through May 29, 2020. Kirk's Grocery is a venue for art, music, poetry and performance. 2020 Minnesota Avenue, Billings, Montana. Contact Shane de Leon, (503) 209-2394.
Gordon McConnell: When the West Was Won, which premiered in 2018 at Northcutt Steele Gallery, Montana State University, Billings, is traveling extensively in Montana throughout 2019 and 2020. Catalog now available (download pdf). For the printed catalog, please contact Gordon McConnell.
Gordon McConnell
When the West Was Won
Exhibition Schedule
Schoolhouse History & Art Center
Colstrip, Montana
September 1–October 1, 2019
Lewistown Art Center
Lewistown, Montana
October 5 – November 1, 2019
Carle Gallery of the Butte-Silver Bow Public Library
Butte, Montana
November 15 – December 15, 2019
Missoula Art Museum
Missoula, Montana
February 1–May 1, 2020
Paris Gibson Square Museum of Art
Great Falls, Montana
March 1 – May 1, 2021
Holter Museum of Art
Helena, Montana
August 20 – November 2, 2020
MonDak Heritage Center
Sidney, Montana
November 15, 2020 – January 1, 2021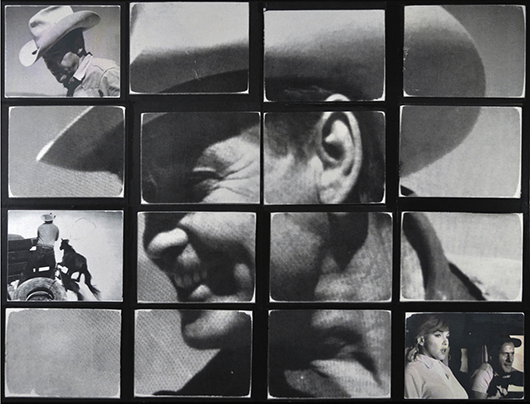 Resounds: Arts and Culture on the High Plains. Leanne Gilbertson interviews Gordon McConnell on Yellowstone Public Radio (listen).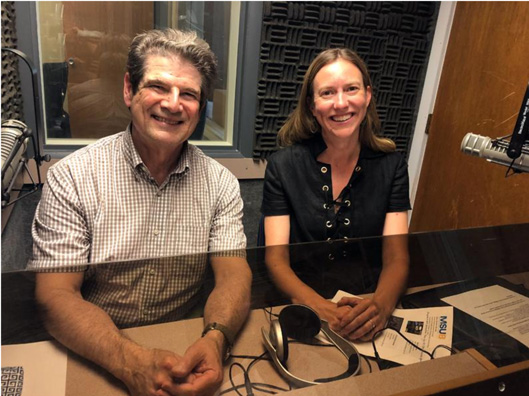 ---
Persistence of vision and Gordon McConnell's "first tiny western movie"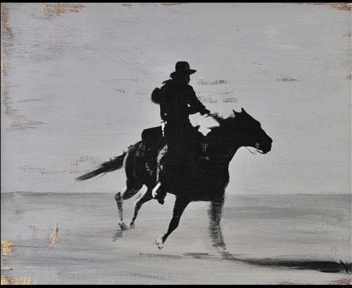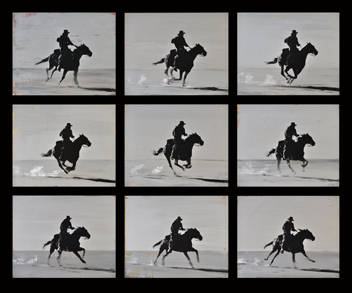 Notes by the artist:
Persistence of Vision: Transit is composed of nine panels depicting the sequential movements of a galloping horse and rider. When I did this painting, based on a series of film stills, I was thinking about film illusion, narrative, and the origin of motion picture technology in the animal locomotion studies of 19th century photographer Eadweard Muybridge. The horse and rider are actors in one of the most fundamental narratives of cinema. 
To define the terms in the title: persistence of vision is a perceptual illusion involving the combination of an afterimage of what we have just seen with what we are currently seeing. This phenomenon allows us to see movement in a sequence of film stills. Unsupported transit is what California Governor Leland Stanford called the phase of movement when all four of a galloping horse's hooves leave the ground—something that cannot really be preceived by the unaided eye. In the late 1870s, photographer Eadweard Muybridge proved Stanford's then-controversial assertion by arranging 12 stereoscopic cameras in a row parallel to a track with trip-wires laid across the track attached to each camera shutter to be triggered by the horse's hooves as it passed. The Horse in Motion, 1878, shows that the hooves do all leave the ground at the moment when the hooves are tucked under the horse as it switches from pulling with the front legs to pushing with the hind legs.
"Muybridge had reduced the narrative to its most basic element: the unfolding of motions in space and time . . . . it was a world of processes again, for one picture showed a horse, but six pictures showed an act, a motion, an event. The subject of the pictures was not the images per se but the change from one to another, the change that represented time and motion more vividly . . . . In hindsight these horse photographs are called the genesis of cinema, but in 1878 it looked like a breakthrough for photography and for the study of rapid motion, and the latter seemed of most significance for painters, physiologists, and equestrians."
— Rebecca Solnit, River of Shadows: Eadweard Muybridge and the Technological Wild West
Muybridge presented his photographic sequences in grids. Using digital tools these vintage stills have often been transformed into internet movies. Recently, my Persistence of Vision: Transit painting was juxtaposed with a Muybridge animation and reconfigured this way—making it my first tiny western movie.